Question:
How do I extend my job listing, or set a close date?
Answer:
Each job can be listed for a maximum of 30 days.
If you want your job to expire on a certain date before the default 30 days is up, you can set the expiry date when you list your vacancy, using the job expiry date picker (see image below).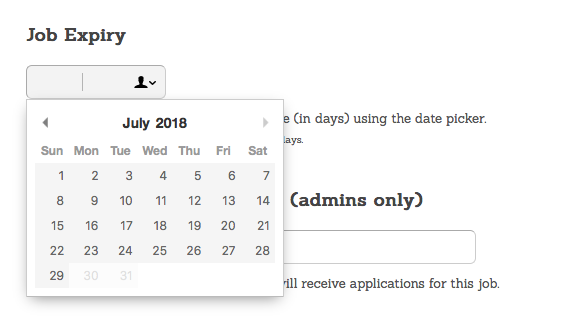 Please note, 30 days is the maximum length you can list a vacancy for. If you want to extend your job listing beyond 30 days, you will need to wait until you receive notification that your job has expired. You will then be able to visit your dashboard and relist this vacancy by visiting the "Ended" tab on your dashboard.  Hit relist under the "Actions" column. Make sure you select a new closing date (within the 30 day maximum time frame).
Note:
If this is a paid vacancy, you will need to make an additional payment for this new job listing.
If this is a volunteer role, you will be able to list this vacancy for another 30 days for free.